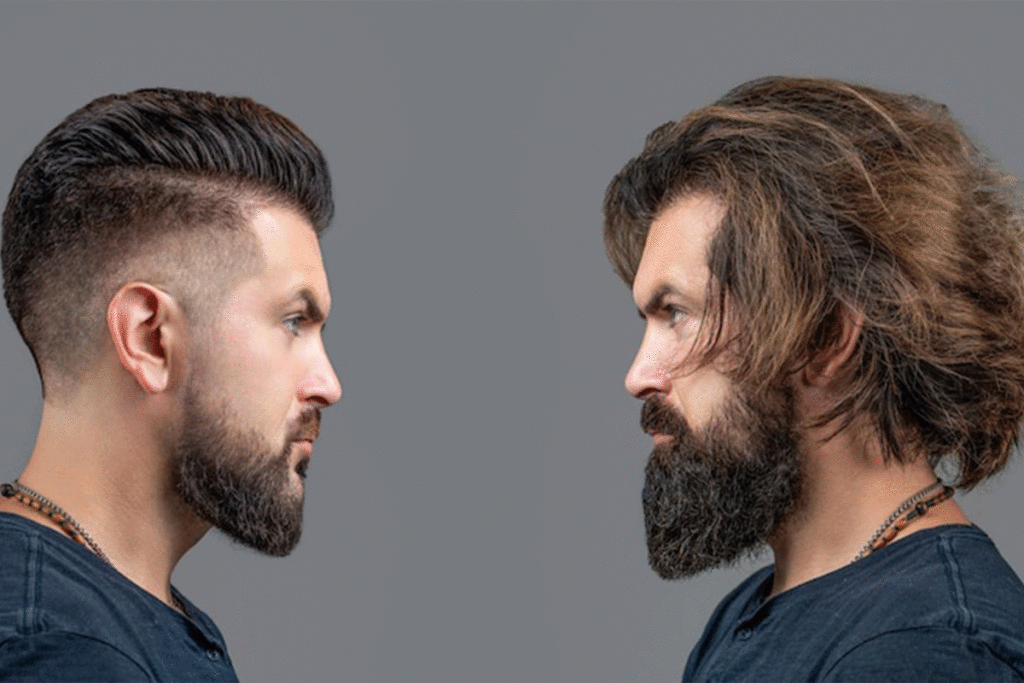 Barber vs Hair Stylist: What's the difference? The question that many men ask when it comes to getting their haircut. The answer depends on a number of factors. Both are trained to cut hair, but they have very different skills and approaches to hair cutting.  
Guys have a few alternatives when it comes to male grooming. Aside from posh shaving shops, "watch sports while you get your haircut" salons, and the basic men's barbershop, there are only two options available for a men's haircut: a Barber vs Hair Stylist. While understanding the fundamental distinctions between the two vocations is significant, we believe that picking one over the other based on their title is not the best way to proceed.
The biggest distinction between a barber and a hairstylist is that a barber would shave your face with a straight-edge razor. Barbers are typically trained to cut shorter, traditional hairstyles, while stylists are better for trends and more knowledgeable about longer haircuts and styles.
Barber vs Hair Stylist
Barber, Hairdresser, and Hair Stylist are words that are sometimes used interchangeably, but for a fact, they are significantly different between themselves. However, the term "hairdresser" is technically the same as a hair stylist, but the word "hairdresser" has fallen out of favor and was mostly used to refer to women.
Barbers are often male Hair Stylists. However, gender is not the determining factor between a barber and a hairstylist—the key distinction is that barbers are licensed to shave with a straight razor in addition to all other hair styling talents.
So, you've decided on the latest hairstyle you want. Do you go to a barbershop or a hair salon? Barber vs. hair stylist? Here's a quick list of what a barber offers versus a hairstylist.
Barbers
Barbers are mostly known to attend to the needs of males' hair. However, women are also welcome to the barbershops, and many choose not to go. This vocation focuses more on facial hair, as they are in charge of giving your beards a stylish makeover.
Check out what they are known for compared to the hair stylists;
Great at cutting short, traditional hairstyles such as a crop, buzz, or military style cut.

Relatively cheap compared to hairstylists. If you're on a budget, you can save a bit of money by going to a good barbershop.

The type of haircut you'd get at a barbershop is simple and generally easy to look after.

Most barbershops offer a hot lather face shave with a straight razor.

You can get your facial hair trimmed and maintained.

A good place to go for a bit of banter and manly conversation in a comfortable, laidback atmosphere.
Hair Stylists
Hair stylists, although sharing many similarities with barbers, differ in that they must keep up with the current popular trends and fads. In addition, hair stylists are often educated to be creative with their customers' hair. This doesn't give them an advantage in the barber vs. hair stylist choice. A hairdresser can handle everything, from coloring to cutting to designing eye-catching designs.
Check out what they are known for compared to the Barbers;
Have more experience in cutting and styling longer hair and will be able to give you advice on how to maintain it.

If you're looking for a fashionable haircut, stylists are up-to-date with the latest trends and will be able to give you some ideas.

A stylist can help you find the right hairstyle for your face shape that flatters your features.

You can get your hair colored. Most barbers don't offer this service.

You need a quality hair styling product. Stylists offer a range of high-end products and can explain which product will work best with the style you've gone for.
Comparing barber vs. hair stylist for a long hairdo, stylists often have greater expertise in cutting and shaping longer hair and adding excellent color if desired. Therefore, a stylist will most likely provide superior outcomes. In addition, if you want a more fashionable, fashion-forward cut, stylists are typically more in tune with current trends than barbers.
You'll also discover items at a salon that you won't find in a barbershop, and your stylist may choose the best one for you and show you how to use it.
As for me, when it comes to barber vs. hair stylist, I tend to use both. When I want to change my hairstyle, I go to a hair salon and need advice on what style will suit my face shape. I'll then go to a barbershop every three weeks for a quick trim to maintain my look.
Barbers Vs. Hair Stylist: How Much Could I Spend?
After knowing what makes them different, you might be pondering, "Which one could save my pocket?" Well, Barbers will likely ask you how you want your hair cut and will do what you have told them, usually with little criticism. Most barbers are less expensive than stylists, so going to a decent barber might save you some money (if that's a priority for you).
A barber's haircut will be easy to maintain, requiring little styling product. In addition, a barbershop is the only place where you can receive a shave.
So, if you're on a budget and you want a classic, simple cut, visit a barbershop. If you've got a bit of spare money in your back pocket and you're after a trendy hairstyle, visit a hair salon.
Surprisingly, both the barber vs. hair stylist make nearly the same amount of money. However, since barbers visit barber shops more often than hairdressers, they normally get their commission-based earnings sooner. Furthermore, a barber typically spends approximately thirty minutes with the customer, but a hairdresser may spend up to four hours with the client.
Barber vs. Hair Stylist:
Working Conditions
A barber's work environment typically consists of working in clean and comfortable settings with enough lighting and ventilation. Flexible scheduling and designing their own working hours may arise for self-employed barbers. Some barbers operate in spas or hotels, and most work in barbershops or salons.
Hair stylists' work activities vary daily; the majority work at a salon, spa, or barbershop. On busy days, hair stylists may be on their feet for several hours, working with customers one after the other, but on slower days, they may have more spare time to prepare for appointments or welcome walk-ins. Patience and a level mind are crucial qualities for a stylist.
On a side note, finding a person with style close to what you're searching for and asking him where he had it trimmed is one technique for finding a fantastic spot to get a nice men's haircut near you.
Final Note on Barbers vs Hair Stylists
Now comes the essential part: education. While cosmetologists acquire a wide range of abilities in school, barbers learn more about the many cutting and styling procedures for men's hair.
That being stated, we believe that the choice between a barber vs. hair stylist should be based on the professional rather than the occupation. It doesn't matter what license they have; what counts much more is the quality of service, the person's honesty, their dedication to their job, and their enthusiasm for the business.
On a final note, due to the high demand for men seeking trendier cuts and services that hairstylists offer, traditional barbers are now under pressure to evolve and offer similar services. So it may be worth checking out your local barbershop and seeing what services they have to offer before spending a load of cash at a hair salon.
You might also want to check out The Men's Hair Care Guide by Rogelio Samson. The book is a proper male's guide To hair care, styles, grooming, products, and cocking it all. This will help you in your choice of barber vs. hair stylist and when to use one over the other.