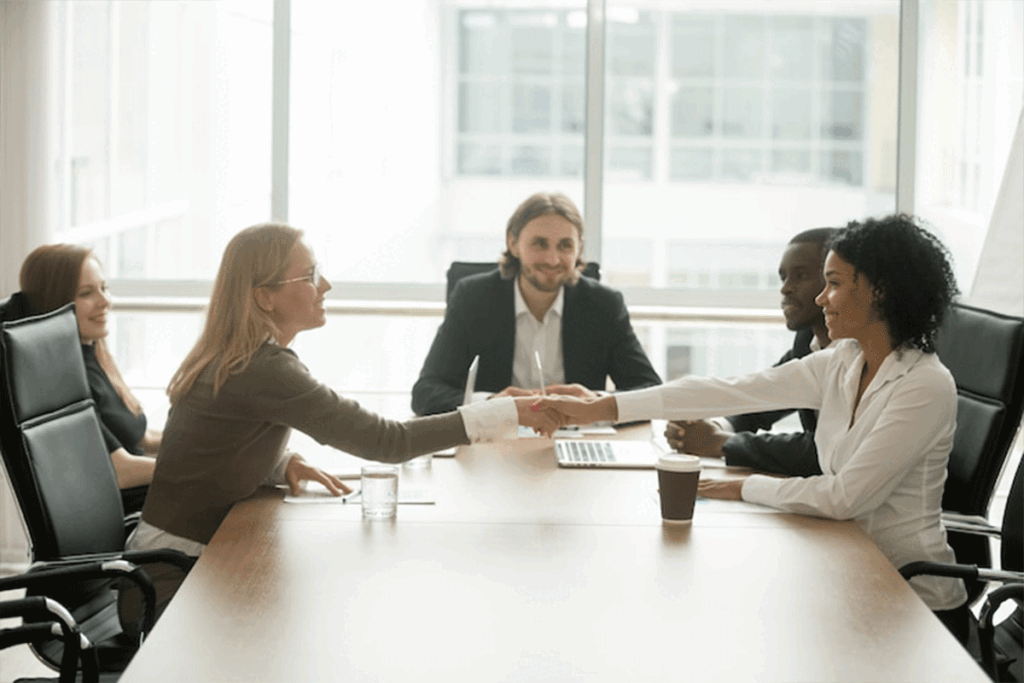 With the economy in crisis, there has never been a tougher climate for those of us looking for work. Unfortunately, there are fewer jobs for us to apply for, and the number of applicants we have to compete with continues to rise.
Making a good first impression is key to a successful interview. Most people make judgments about a person in the first few minutes. If you want them to instantly like you and keep thinking of you after the interview, here are pro tips for creating an excellent first impression.
Dress to Impress
People make first impressions not only on what you say but also on what you wear. You don't want to walk into the interview looking scruffy and untidy; people will assume you work like this. Ensure that you look neat and presentable.
Everyone has in some way experienced being unable to select the appropriate outfit from their wardrobe. Dressing appropriately for a job interview is critical because your appearance contributes significantly to your first impression. A thumb rule is to wear clean, modest clothing and avoid bright colors.
Dress for the type of job you're going for. For example, if it's a job at a corporate bank, wear a suit, a white shirt, and a tie; if it's for a computer game designer, dress so it looks like you're creative.
These colors can help you score points in a job interview:
Blue conveys trust and authority but not much creativity.

Black conveys elegance and seriousness.

Green represents growth and serenity. It implies that you are willing to learn and train.

Yellow and orange are the most cheerful colors. Therefore, a small yellow or orange detail in your outfit makes you appear cheerful.
Look Fit and Healthy
If you're overweight, start by heading to the gym and beginning a workout program. Also, start eating healthy and cut out junk food. People perceive people who don't take care of themselves as lazy.
Arrive Early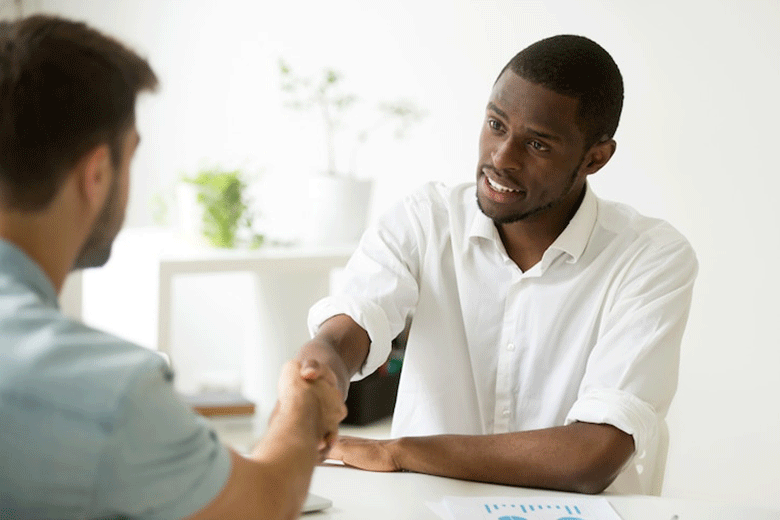 If you've never been to the location where you're being interviewed, then make sure you plan your journey in advance. You may want to travel to the location a day before to ensure you know where you're going.
If you want to take public transportation to the interview, it is advisable to also plan for a possible delay in the interview. Taking public transport can result in two scenarios: missing the train or changing your route at the last minute. So plan ahead for this.
Time constraints can also make you nervous, so it's best to arrive with a little extra time. If there is still time before the interview, take a walk around the block to gather yourself and take some deep breaths.
Come Prepared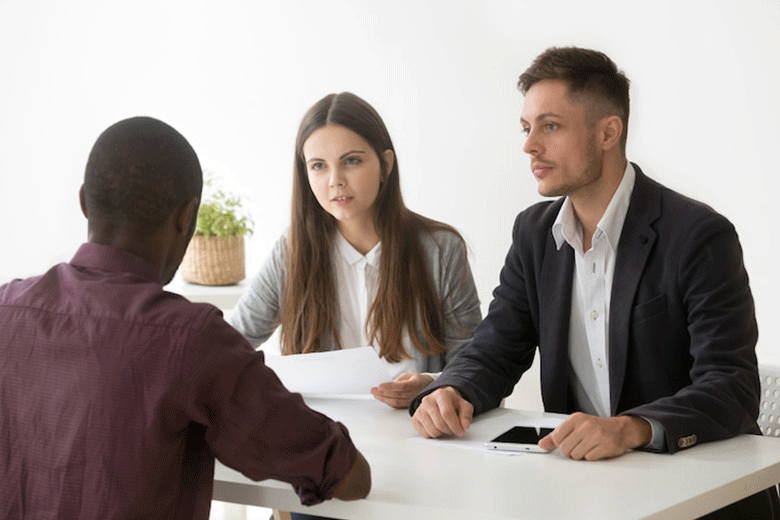 If you speak with a recruiter before the interview, you can inquire about the workplace dress code and plan your outfit accordingly. If you don't have anyone to ask, research the company to find out what's appropriate.
Do your research and learn about the company's history, what they do, and the specific job that you want. Read books on interviewing tips and plan out answers to standard questions.
As a means to practice, you can inquire if your friends and family will conduct a kind of mock interview for you. This lets you get a sense of your new surroundings and limit your shyness. But, of course, it is best to approach the unfamiliar situation from the comfort of your own home to get a sense of how you can respond professionally.
Get a good night's sleep the night before and eat a good meal before you head to the interview.
Bring Supplies
Have a pen, paper, and a few copies of your resume on hand.
While the hiring manager has most likely seen your resume and cover letter, it's possible they've not read every line. You can find yourself talking to a new person. This is where an extra copy of your CV comes into place, as you might want to highlight specific accomplishments that you can reference in your copy.
Take notes, but not on your mobile phone or any other electronic device. Instead, make a note of the details to refer to them in your follow-up thank you notes. Maintain as much open body language as possible.
Before the interview, keep all of your documents in a single, multi-purpose messenger bag or portfolio. Make sure it's professional and appropriate for the corporate culture and your personal style.
Give a Firm Handshake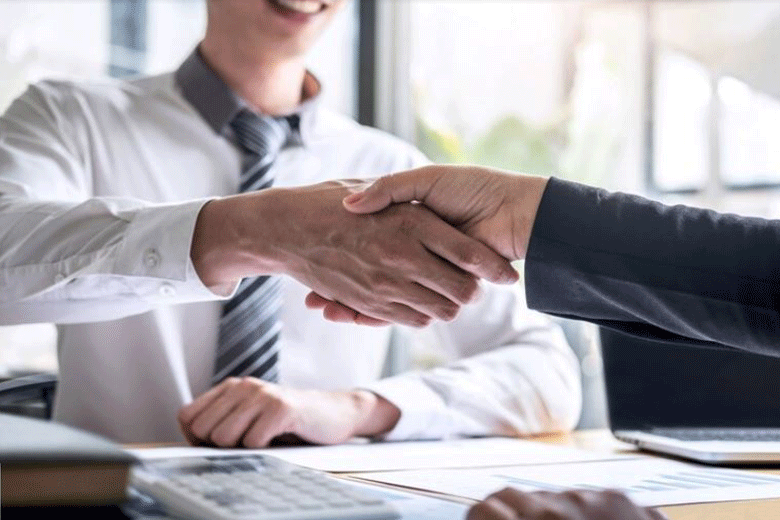 Make strong eye contact, introduce yourself, and give a firm handshake. The first handshake is a crucial part of making a good first impression.
Hands should be shaken with a firm grip. Confidence is demonstrated by a firm handshake that is neither too tight nor too slack.
Greet people management representatives, recruiters, senior executives, and possible future coworkers by extending your hand. Also, if you are not already standing, stand up before shaking hands with anyone who walks into the room.
Stand and Sit Up Straight
Good posture displays confidence. When speaking, your body language should be pleasing, and you should smile regularly and maintain eye contact constantly. Sit or stand up straight, shoulders back. Take a deep breath and slowly take a breath before the interview. This will help you manage your anxiety and will boost your self-confidence.
Focus On the Conversation
Speak clearly and at a steady pace. Ditch the monotone voice – you'll come across as a bore. Make sure you avoid using filler words such as "like" or "um"; they tell the interviewer that you're nervous. Use proper grammar and vocabulary that shows your intelligence. Avoid using slang and jargon that the interviewer may not understand. If people can't understand you, then it's hard for them to like you.
Use the Interviewer's Name
This indicates that you were paying attention during the introductions and that the person was important enough for you to remember their name. However, don't get too friendly and overuse the person's name, as this will appear fake and a bit creepy.
Show That You're Listening
Give the person a direct look in the eye when they're talking, give the occasional nod, and say words such as "I see" once in a while. Also, ask questions about the topics being discussed. It shows that you've been paying attention and that you're keen to find out more.
Don't Interrupt
It won't go down well.
Acting as if you know everything will make you appear arrogant. However, read the company's website and detailed descriptions to be able to speak intelligently about the company.
Rehearse your responses to common questions and prepare stories about your recent accomplishments, especially ones demonstrating that you are a good fit for the organization.
Ask Questions
Be ready to give your best shot when asked, "Do you have any additional questions?" Inquire about the company or the job. By doing so, you are viewed as someone who has prepared well and is interested in working with the company.
You can prepare further for this by thinking about it ahead of time. What do you want to know about your potential employer? Ethical backgrounds, special products, locations, or payment – demonstrate that you are interested and have researched extensively!
Divert attention from you and onto the other person. Do this by asking questions about that person. Good questions to ask in an interview are:
Why did you want to be a (insert job role here)?

How did you end up at (name of company here)?

What's the best thing about working at (name of company here)?
Not only does this stop you from blabbing on about yourself, but it also gives you an insight into your potential future company.
Thank Everyone
After the interview, thank all of the interviewers individually (if there's more than one), and thank them for the opportunity.
Leaving the interview room is as important as the money you entered. Make a genuine "thank you" to leave a lasting first impression.
Keeping tabs on an interview demonstrates ambition, so write a friendly and brief email to your interviewer about three days after the interview. You can express your gratitude and reaffirm your interest in the position.
Take a moment after the interview to reflect on it for yourself. What worked well? What did you do particularly well, and what could you have improved? This self-reflection allows you to better yourself, and even if it didn't work out this time, it provides you with suggestions and concepts for your next interview!
Summary
Have you been accepted for your dream job? You must now persuade them during the interview with a good first impression. What types of questions can you anticipate from the interviewer? Can you even prepare for an interview, and what should you do or avoid during one?
It is critical to prepare properly. Of course, every job interview is different, and the questions vary depending on the job you applied for, but even if a lot of it has to be very unplanned, you can rely on these helpful tips to make your interview a huge success!
Further Reading
Are you curious to learn the tips and strategies that can distinguish you from the competition and attract employers? Do you want to ace your interview and land the position of your dreams? Or are you interested in learning more about the interviewing process and the most typical questions? Then you should try this book out!
The hiring process must include job interviews, but far too many candidates have trouble getting through them. By reading this book, you will understand how to maneuver this frequently complicated occasion when your dream career and future financial security depend on standing out from the throng.
Sale