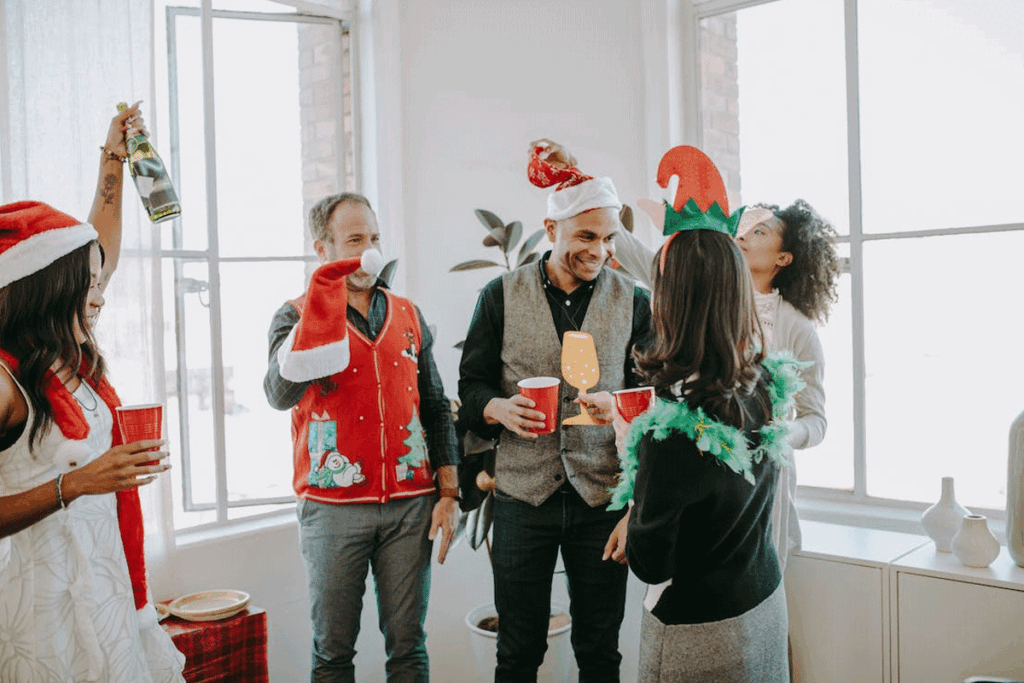 The office Christmas party is an occasion that's notorious for encouraging your fellow work colleagues to drink lots of alcohol, dance suggestively with each other, and spread gossip that would surely have been better kept quiet.
If you've never been to an office Christmas party before, or if you made a bit of a show of yourself at last year's bash, the following are some tips to ensure that you survive this year's office Christmas party without causing yourself embarrassment or getting into trouble with the boss.
Remember that it is a Business Function
Although the office Christmas party is a time to relax and enjoy yourself after a hard year of work, if it's company-sponsored, then it's a business function, which means you have to be on your best behavior. After the event, you still have to work with these people, and if you act inappropriately, you'll be remembered, but for all the wrong reasons.
The last thing your boss wants is for one of their employees to get drunk, throw up on the carpets, or pass out under a table. If you plan on drinking at your office Christmas party, make sure that everyone understands that this is not an opportunity to get wasted—it is a chance to socialize with coworkers in a safe and controlled environment.
Do Attend.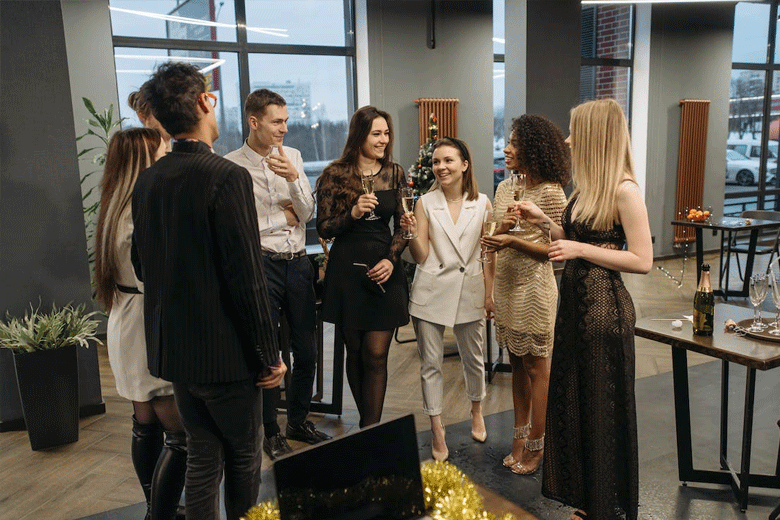 You don't have to be the last one to leave the event, but you should make every effort to attend. Even if you can't think of anything worse than spending a whole evening with the people you work with daily, it's still a good idea to make an appearance. Attending shows that you're part of the team and that you're a sociable, fully-rounded person who gets along with his colleagues. If you're pressed for time, make sure you say hello to everyone and then discreetly leave. If anyone asks why you're leaving early, don't make excuses. Just say that you didn't think that you'd be able to make it to the party at all, but you still made it possible because you wanted to see everybody.
Dress Appropriately 
If you're going to an office Christmas party, it's important to dress appropriately. You don't want to show up in a tank top and jeans and make it look like you're not taking the event seriously—you should be respectful of those around you.
While this may not be as crucial for some people, it is still good to have a general knowledge of what type of clothing is expected at the event. For example, if you are attending a casual company Christmas party and everyone else is wearing jeans and T-shirts, don't wear formal business attire (such as dress pants). If you aren't sure what type of clothes to wear, ask someone who works at the company—they will know what would be appropriate.
Check the dress code, which will usually be determined by the venue or the theme of the party. When selecting an outfit, it's all about getting the balance right. You don't want to be as boring, just as you don't want to appear unprofessional. "How to Dress for the Office Christmas Party" explains how to look your best and make a good impression.
Network and Socialize
It may be a business function, but it's a good opportunity to get to know your colleagues and enjoy yourself. Don't spend the entire evening with your usual clique. Instead, introduce yourself to as many people you don't know, especially upper management.
Try Not to Talk About Work Unless You Really Have To
Don't talk about work unless you want to be labeled as the office bore. Use the Christmas party as an opportunity to get to know your colleagues on a more personal level. Show that you have a variety of interests. Avoid bragging about your accomplishments and talking about anything work-related. Remember, don't just talk—be sure to listen too.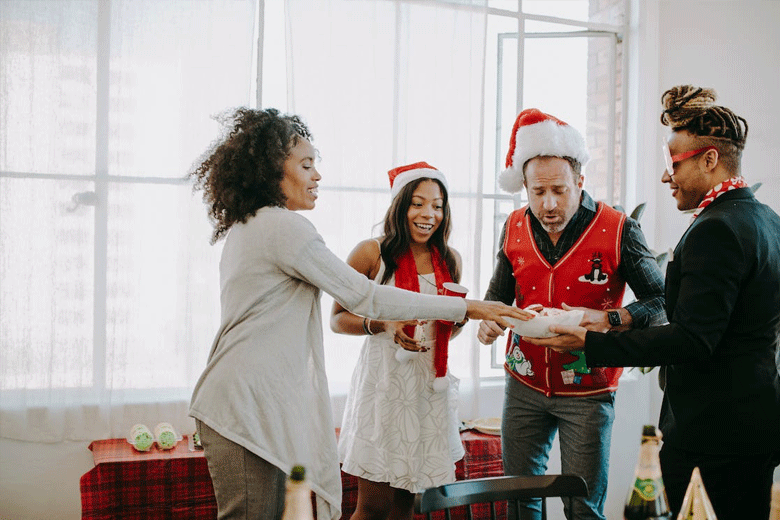 Watch Your Language
Always assume that you're being watched and judged. Avoid saying things that you wouldn't say on a normal working day in the office.
It is important to be aware of the language you use when you are at an office Christmas party. If someone uses a derogatory term or makes an offensive joke, don't laugh along with them—that just reinforces the idea that it is okay to say these things. Instead, try saying something like, "That isn't very nice."
It's probably not the perfect time to share your latest jokes or tell stories about your weekend escapades. If you do, don't swear excessively or use profanity—especially if there are children present! This will only make people feel inconvenient and embarrassed for you. Also, try not to talk about topics that may be considered inappropriate for an office setting (for example, politics or religion).
Try To Avoid Arguments and Christmas Party Gossip
Don't discuss disagreements or grievances with colleagues. Keep the conversation away from controversial topics, and don't gossip or make inappropriate jokes. Doing so may result in a fight or offending the wrong person. Maintain a friendly and positive attitude at all times.
Don't Get Drunk
It can be difficult to take it easy when the alcohol is flowing, especially when it's a free bar. Excessive drinking is the major cause of office party incidents. Drink in moderation and pace yourself – remember that you have a long evening ahead of you.
You don't have to drink everything that comes at you, but it can be dangerous to mix up your drinks. If you do decide to drink alcohol, try not to get too many shots, glasses of wine, or cocktails in one sitting. This can lead to dizziness and intoxication (and possibly vomiting). Also, if someone else is watching over your beer pong game and notices that someone has had too much alcohol and needs help getting up from their chair, they may not be able to help because they are busy with other responsibilities—like making sure everyone stays hydrated.
If possible, ask someone else to keep track of how many drinks each person has had so far during the party—it's always better to be safe than sorry.
Don't Make a Move On a Work Colleague
After a few drinks, chatting up the hot secretary that you've had your eye on all year may seem like a good idea. But if it goes wrong, you may be subject to a sexual harassment complaint. Studies have shown that one-third of couples meet at work, and given the amount of time you spend there, it's hardly surprising.
However, using the Christmas party to make your move on a colleague is not a good game plan. If you're seriously thinking about hitting on a girl in the office, make sure you read "Dating Women in the Workplace: Pros and Cons" first.
It may be tempting to move on to someone you work closely with, but it's not always a good idea. If you're caught making out with your colleague in the office break room or taking them into an empty cubicle, then it could get awkward when they return to work the following Monday.
You should always respect their personal space and not make any moves on them一even if they are cute and smile at you when you pass in the hallways. It's okay for two coworkers to go out for drinks after work if everyone is of age and wants to hang out together, but having a drink at home or going for dinner somewhere else first is probably better than just asking someone out cold turkey because there could be some awkwardness later down the line if things don't work out as expected between the two of you.
Do Enjoy the Party
Though the tips above will help you get through the Christmas party, it's still important that you enjoy yourself. Yes, it is a business event, but your company spends a lot of money to reward the staff after a hard year of work. So it'd be a shame not to take advantage of it. Look at it as an opportunity to socialize and have fun with your work colleagues. Anyway, if you act respectable, even when others aren't, there are lots of ways to have fun without harming your professional reputation.
Wrapping Up
Office Christmas parties are great for getting to know coworkers on a more personal level, and it's always fun to get all dressed up and celebrate the season with friends at work. But remember, this is only one night out of many in your life—try not to make too much of it.
They can also be very stressful if you don't know how to handle yourself in the right manner. The best way to ensure that this doesn't happen is by knowing what kind of behavior is expected at such events. By following these simple steps, you can enjoy your next office Christmas party and feel good about yourself afterward. The key is to drink responsibly and not overdo it.