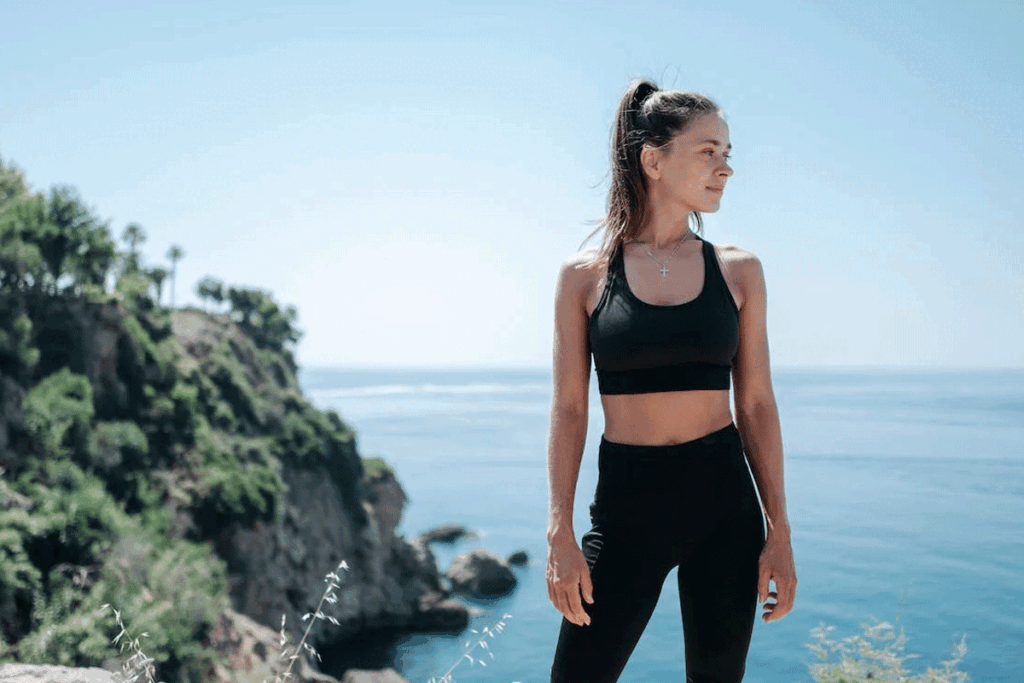 We all know how insecure women can be. You may think your girl is naturally sexy, but she'll still spend a lot of time trying to maintain attraction and your interest in the relationship.
But we tend to get too comfortable. We start to take our women for granted and stopped reminding them how sexy they are. Next thing you know, the excitement is gone, and you're sitting there wondering where the spark went. The hot, passionate sex is now a distant memory, yet you're still not doing anything about it.
So what can you do to make her feel sexy? Of course, telling her how beautiful she looks is important, but there's a lot more to it than that. It's your job to keep her feeling positive, happy, and attractive.
The hotter you make her feel, the more it'll make her yearn for you. She'll be more sexually confident in herself because of how much you desire her.
Being flirty and physical is only a small part of it. You need to be spontaneous, surprise her with romantic gestures, and show how much you care about her. So, if you want to get the spice back into your relationship, try the following tips:
Take Some Time Out
It's important for your girl to feel sexy, confident, and comfortable with herself. One way you can make her feel sexy is by taking some time out of your day just for her. Spend at least five minutes of quality time together doing something she enjoys.
This can be anything from going on a walk, baking cookies, or playing her favorite game. It doesn't matter what the activity is as long as it makes her smile.
Establish a Connection Between You and Her
If you want your girl to feel sexy, you first need to make her feel sexy. Give her a compliment about something she is insecure about, like her hair or eyes. Acknowledge that it may not be easy for her. When she does feel good about herself, she will make you feel good too.
Asking her questions about her day is a great way to get her talking, but don't forget that you need to talk about yourself too. Sharing intimate information about yourself will help bring you closer together because you will have shared something personal with each other.
When your girl confides in you, let her know that it's nice for her to feel so comfortable with you. If she tells you she has had a bad day or that work went badly, give her a hug and let her know that you support whatever decision she makes regarding it. She should feel like she can count on you no matter what happens in life.
Improve Her Self Image
Many people make the mistake of thinking that making a girl feel sexy is all about clothes, hair, make-up, etc. All these things are important, but they do not make her feel sexy. The key ingredient to make her feel sexy is making her feel attractive and confident in herself.
If she has low self-esteem or feels insecure, then she will never feel sexy, no matter how many times you tell her she looks great. You can help improve this by praising everything you like about her – even if it is just something as simple as her smile or how good she cooks.
When complimenting her look, remember that you want to describe things she does, not things about how she looks. So, for example, instead of saying, "you look hot in that dress," say, "I love the freckles on your nose" or "that hair style really suits you."
Take photos together. Have her pose for you seductively. Praising her personality will make her feel great and will help improve her self-image over time. When she is happy with herself, then she will start feeling sexy. And when she feels sexy, then you know you have a winner.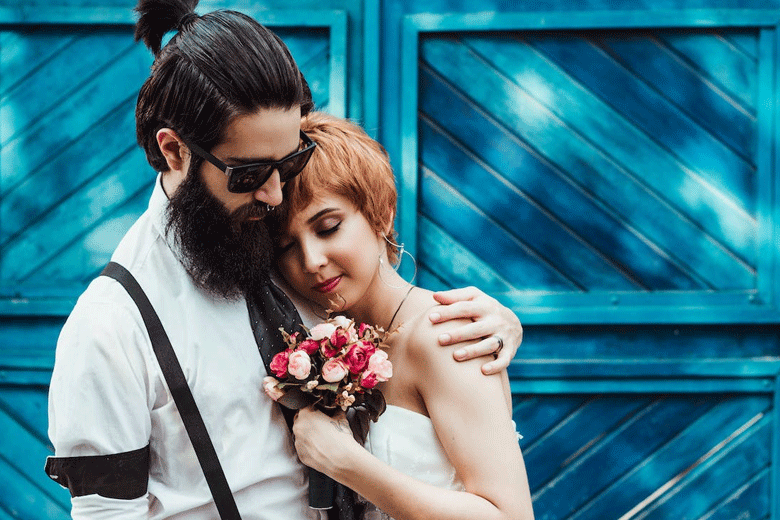 Touch Her Whenever You See Her
Not being able to keep your hands off her will show that you find her irresistible.
One of the best ways to make your girl feel sexy is by showing her that she means something special. Make her feel sexy by touching her in a way that makes her feel good, not just sexually but emotionally too.
Touching can be very physical or emotional, like being there for her when she needs you. However, a simple hug will do wonders for making your girl feel sexy.
Text Her Something Naughty
Immediately after you get back home, tell her how much she turns you on, then take her to the bedroom and f*ck her brains out. Show her that you have to take her now.
Don't rush foreplay. Kiss and caress every inch of her body and build sexual tension naturally.
Tell Her What Drives You Wild
Whether you go insane over a specific outfit or how she shows a little leg, let her know about the little things she does that turn you on.
Kiss her neck and wrap your arms around her when she's cooking or putting her make-up on. Compliment her skills in the bedroom.
Maybe your girl gives great blowjobs or knows how to grind her hips. She'll do it more often if you tell her how amazing it feels.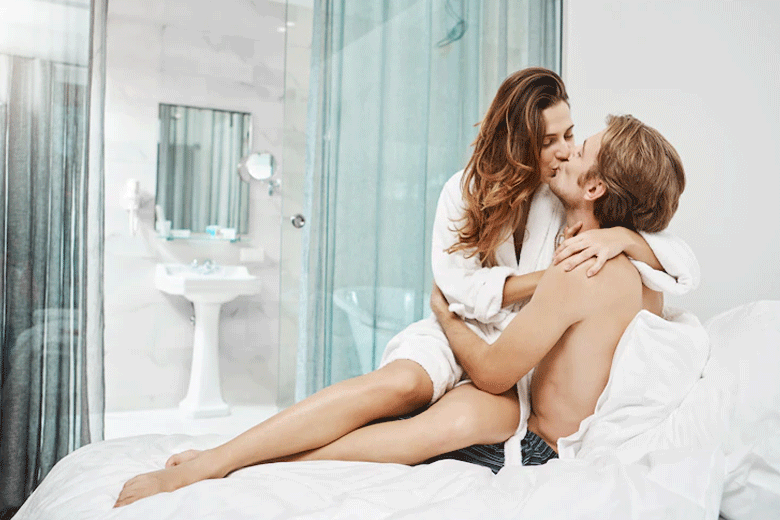 Positive Reinforcement Matters
Positive reinforcement is a powerful motivator. When you tell your girl how sexy she looks, that she's beautiful, or that you love her body, it will make her feel much better about herself.
A great way to start the day is by telling your girl why you're attracted to her and what makes her sexier than all the other girls in the world. You can also focus on something specific, like how she would look in lingerie or if she should cut off her hair short.
Whisper steamy compliments in her ear when you're out and about. Tell her she's beautiful even when she's not feeling her best: when she wakes up, when she's sick, and when she least expects it.
Do not underestimate the power of a compliment.
If you want your girl to feel sexy, it's not all about what she wears. You have to give her the right compliments, say the right things, and make her feel wanted. Likewise, if you want your girl to feel confident, it's not just about how she looks or feels, but also about how she thinks. If a girl feels good about herself on the inside as well as the outside, she will be confident.
Get Her Sexy Wears
Trust me; you need to buy her the best sexy wears that you can find. This does not only give her the impression that you believe she's sexy and wants her to show it. It gives her a chance to express her confidence. She'll wear those clothes proudly and happily, especially because it was you who got them for her.
There are many sexy wears you can try out, depending on her stature, complexion, and preference. And, of course, your preference too. You know what you love to see her in, that look she could give in a nice dress that will instantly turn you on.
You may try out the following sexy lady wears;
JTNFairy Womens Off Shoulder Long Maxi Quinceanera Formal Party Dress Casual Side Split Frozen Teen Girls Dresses Silver
Gowns Evening Formal Flowy Cute Dresses,Sexy Elegant Mermaid Sequin Bodycon Party Dress,Bridesmaid Wedding Guest Flowy Church dresses,Long Maxi Quinceanera Frozen Teen Girls Dresses
The Solid Color Sequin Semi Formal Evening Gowns Maxi Cocktail Fancy dress makes you look more elegant and sexy.The colors in this dress is screamed in spring/summer/Autumn/Fall/Winter,Include Black/RoyalBlue/Cyan/Burgundy/Silver/Gold/Colourful Dresses,we will update more colours sooner.
This women's Cocktail Dresses are suitable for Evening Gowns/Formal/Party/Cocktail/Church/Quinceanera/Homecoming/Wedding/Bridesmaid/Beach/Daily Wear//Nightclub/Travel/Vacation/Holiday/Camping and any other occasions.
Side split design makes the dress spins beautifully. Look perfect with fashion fall casual long shift maxi dress by pairing it with your favorite necklace and sandal.
The top portion of the dress can be changed to fit your personal style,fun yet elegant and sophisticated at the same time. off the shoulder dress for women.It would be better to clean the fantastic dress with gentle cycle machine wash mode in cold water
Joukavor Ladies Sexy Sleeveless Spaghetti Strap Satin Dress High Slit Open Back Bodycon Ruched Midi Dress (Z-Green, X-Large)
Material - Satin material, shiny and smooth, cool feeling and comfortable to wear. You can always wear a silky and luxurious style that lets a person cannot stop.
Chic Design - Spaghetti strap / Low cut / Padded bust / High waist / Ruched and wrap / Side split / Hidden back zipper / Midi / Slim fit. Joukavor sleeveless slit bodycon dress will hug your figure perfectly and create a seductive silhouette.
Hot Style - Sexy spaghetti strap split dress is on trend, a must have to your wardrobe. You will get many compliments on it from both men and women.
All-matching Fit - Simple and generous style hugs your body curves perfectly and flatteringly. Match it with a necklace or a choker, high heels and get ready to dazzle any crowd confidently.
Occasions - You'll love this fitted cami dress for all your fancy events such as Club, Night out, Birthday, Cocktail, Evening party, Date, Homecoming and so on.
Sale
PRETTYGARDEN Women's Off Shoulder Bodycon Dresses Drawstring Sexy Mini Floral Print Party Club Smocked Dress (Dark Green,Small)
COMFY FABRIC: Cold Shoulder Mini Dress Is Made Of High Quality Fabric, Soft, Skin-Friendly And Breathable. All-Over Print Dress Is Suitable For Summer, Simple But Not Plain, Super Flattering
EYE-CATCHING DESIGNS: Short Puff Sleeve Dress/ Off The Shoulder Dresses/ Sexy Mini Dress/ Floral Print Dresses For Women/ Heart Print Dress/ Leopard Dress/ Drawstring Dresses/ Bodycon Dress/ Tight Dress/ Fitted Dress/ Smocked Dresses For Women
MATCHING STYLE: This Bodycon Dress Can Be Matched With High Heels, Sneakers, Boots, Handbag, Shoulder Bag. A Perfect Choice For Wearing Along In Summer, And You Can Layered With Coats, Jackets In Fall And Winter. Suitable For Cocktail, Birthday Party, Wedding, Homecoming, Going Out, Date Night, Club And Other Occasions
SUMMER SEXY OFF SHOULDER DRESS! Bust-Flattering Off Shoulder Neckline Shows Your Sexy Collarbone Perfectly, And Can Be Worn With Sparkling Jewelry. Above Knee Mini Length Dress With Ruffle Hem Adds A Touch Of Cuteness. Smocked Empire Waist Dress Accentuates Your Slender Waistline While Better Showing Off Your Figure. Front Drawstring Dress, You Can Adjust The Length To Your Comfort
A VARIETY OF CHOICE: Navy Green Leaf Summer Dress For Women/ Black Red Leopard Dresses/ Red Heart Dress For Women/ Black Bodycon Dresses/ Royal Blue Fitted Dresses For Women/ Black Blue Vintage Dress/ Dark Green Smocked Dress/ Royal Blue White Floral Dress For Women
Text Something Meaningful and Romantic to Brighten up Her Day
On the spur of the moment, tell her you're taking her out. Try a new restaurant, go for a long walk on the beach, or go for a picnic in the park.
Surprise her with a gift once in a while. Do this because you want to show her how beautiful she is:
Flowers.

A box of chocolates.

Tickets to her favorite play.

A mixed CD of her favorite tunes.
It doesn't have to be expensive; it's the meaning behind it that matters.
Here are additional pointers to take not of;
Give her a sensual massage with oils. Touch her body all over and tell her how much you love it.

Take her on a date every week. Set a date night and spend some quality time together.

Hold her hand across the table and tell her how much you adore her.
Nothing is more fun than spending time with your girl. Make her feel sexy by playing music, cooking dinner together, or taking a walk on the beach. Sometimes all you need to do is put a smile on her face.
Remember, your girl wants to be treated like your lady. She wants you to romance her and put her first. The more you make her feel like a princess, the more confident she'll become in her own right. And that confidence will translate into happiness.
Tell her she is beautiful. Nothing makes a woman feel sexier than hearing those words from her man. When she's feeling good about herself, she'll feel more confident in bed—and who doesn't want that? Of course, it also helps if you say it at just the right time. There is something very alluring about a man who says it when he really means it, such as when he first sees her coming down the stairs.
Conclusion
Making your girl feel sexy, beautiful, and confident will dramatically improve your emotional and physical relationship. Come up with your ideas and express your feelings too. Not only will she feel more appreciated and adored, but she'll also feel more sexually confident and be willing to experiment more in the bedroom. It's a win-win situation for both of you.